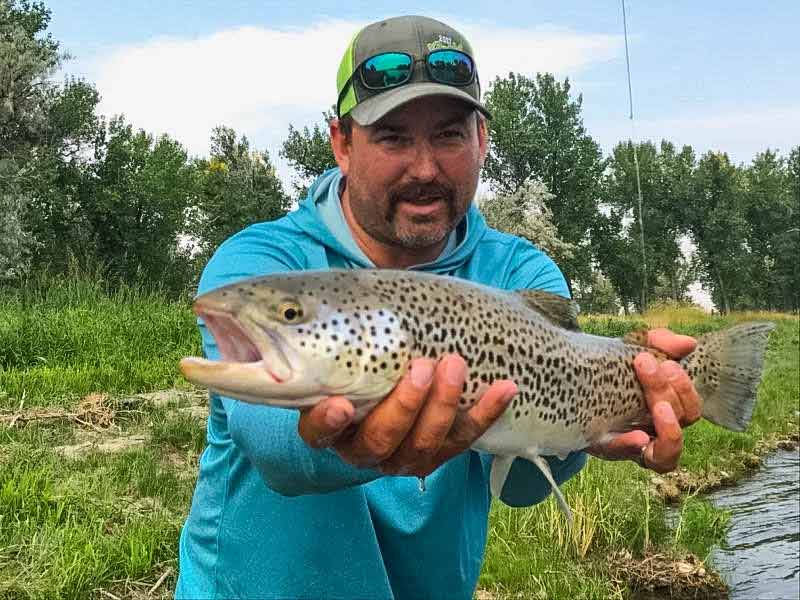 River Data:
River flow: 4500 cfs
Water Temp: 41 F
Water Clarity: Incredibly clear and perfect.
Moss and grass Factor: A tiny bit for the first 5 miles below the dam. Then medium from 5 miles down to 10 miles down. Medium to heavy below that to 13 mile.
The snow melt in the mountains has finally begun. The river flows are slowly increasing. The new dam management policies and the average snow pack in the mountains should mean that we wont see huge river flows like in the past. The sun is shining and it looks like the worst of the spring rains are behind us. Time to warm up that river and turn up the trout bite. The weather was a little tough on Memorial day weekend, but the fishing was getting better.
Hot Flies:
Nymphs: Sow bugs, baetis nymphs, midges and BIG scuds.
Method: 7.5-foot 3x or stronger leader to 2 bb's or a 3o size chunk of tungsten putty. 1ft or so to the first fly and1ft or so to the second fly on your 4x tippet. Fish deep and slow.
Size 14-18 Tan Soft Hackle Ray Charles
Size 14-18 Bead Head Pink Soft Hackle
Size 14-18 Carpet Sow Bug Gray and Tan
Size 16-20 Quills (black or brown)
Size 16-20 Skinny Nelson (black or brown)
Size 16-20 Wonder Nymph (olive and black)
Size 18-22 Midges (olive, red, black, grey, tan, cream and rusty)
There's no question that an angler has to get crafty with the nymph game to catch multiple trout on the Bighorn River right now. Try some different weights and leader lengths and multiple flies. If it looks like there should be a trout in a fishy spot than there is. Fish appropriate weights with a pink soft hackle and a skinny nelson behind it.
Dry Flies: Spring Baetis (Blue Wing Olives) Midges
Method: 9-foot 5x leader to the top fly. 1ft or so leader to the second fly.
Size 16-18 Baetis Duns and Spinners (smoke jumper, cripple thor)
Size 18-20 Student
Size 16-18 Griffiths gnat
The trout are in the riffles and in the heavy seam lines eating dry flies. It takes the right weather conditions and the right days but you can find them chowing in the right places.
Streamers:
Colors: Olive, Black, And White
There are monster trout in the Bighorn River right now. NO color streamer is better than the other right now, but streamers are catching the HUGE ones on the Bighorn River. Fish them to the center of the river with a heavy sink tip and cross your fingers that the trout your fishing for didn't eat an 8 inch trout the night before.
Happy Late Spring fishing from Forrester's Bighorn River Resort!