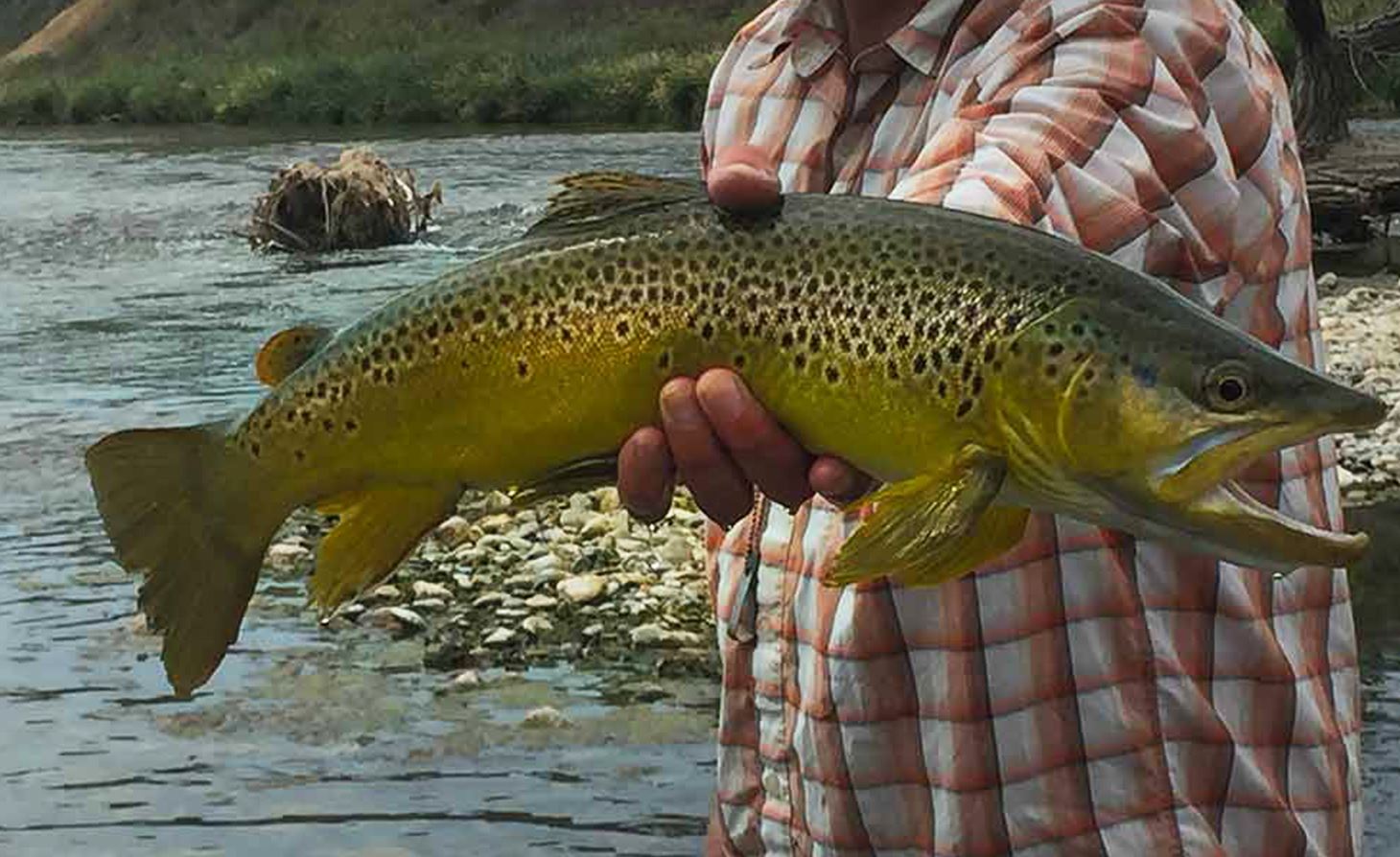 River Data:
River flow: 5500 cfs
Water Temp: 46 F
Water Clarity:  Incredibly clear and perfect.
Moss and grass Factor:  Not to bad for the first 8 miles and then moderate floating moss 8mile to 13 mile.    
The Army Core of Engineers has requested that the Bighorn River slow it's flows to help ease some of the flooding on Missouri and Mississippi Rivers.  Therefore our slow increase has actually been a slow decrease.  For now the river is stable.  The Rainbows are in full spawn and it looks like the water flows are going to allow them a successful one.  Water temperatures are creeping up there and the Blue Wing Olives are still hatching in force.  Stomach samples are revealing large sow bugs, midge larvae and baetis nymphs.
Hot Flies:
Nymphs: Sow bugs, baetis nymphs, midges and BIG sow bugs.
Method: 7.5-foot 3x or stronger leader to 2 bb's or a 3o size chunk of tungsten putty.  1ft or so to the first fly and1ft or so to the second fly on your 4x tippet.   Fish deep and slow.
Size 14-18 Tan Soft Hackle Ray Charles
Size 14-18 Bead Head Pink Soft Hackle
Size 14-18 Carpet Sow Bug Gray and Tan
Size 14-18 Eddie Vetter both tan and grey
Size 16-18 Pink Soft Hackle
Size 16-20 Quills (black or brown)
Size 16-20 Skinny Nelson (black or brown)
Size 16-20 Wonder Nymph (olive and black)
Size 18-22 Midges (olive, red, black, grey, tan, cream and rusty)
The nymphing is getting a little easier with the warmer water and daily different water flows.  The flows are kicking free a little more grass, but with that grass comes lots of bugs.  Enormous numbers of sow bugs, midges and baetis are making their way into the feeding columns and trout are chowing them.  The majority of the fish are being caught low in the riffle or high in the deep run below a ledge so concentrate your efforts on the drop offs and a little bit above them in the deeper part of the riffle. 
Dry Flies: Spring Baetis (Blue Wing Olives) Midges
Method: 9-foot 5x leader to the top fly. 1ft or so leader to the second fly.
Size 16-18 Baetis Duns and Spinners  (smoke jumper, cripple thor)
Size 18-20 Student
Size 16-18 Griffiths gnat
The water flows are moving the trout around a little, but they are still eating dries on the heavy seam lines and in the riffles.  A 5x leader should work fine but sometimes you need to up the game to a sneakier 6x leader or tippet to fool the trout.  They are a little spooky but not uncatchable. 
Streamers:
Method:  5 foot heavy leader with a loop knot to the streamer
Colors: Olive, Black, And White
Bring on the Shiner!  It's inevitable that we will see some higher flows this year and the Emerald shiner is still spawning in the lake.  If the flows get to be over 6000 cfs dig out the streamer rods and very SLOWLY strip your streamers in a downward angle off the bank.  For now the streamer fishing is marginal and the streamer eating trout are in the middle of the river, in the deep runs and heavy seam lines.
Happy Late Spring fishing from Forrester's Bighorn River Resort!
Sneaky tip:  A few crane fly larva have been pumped from trout stomachs.  It's not been proven that it's a killer guide fly but tie one on and comment on this blog if it works.