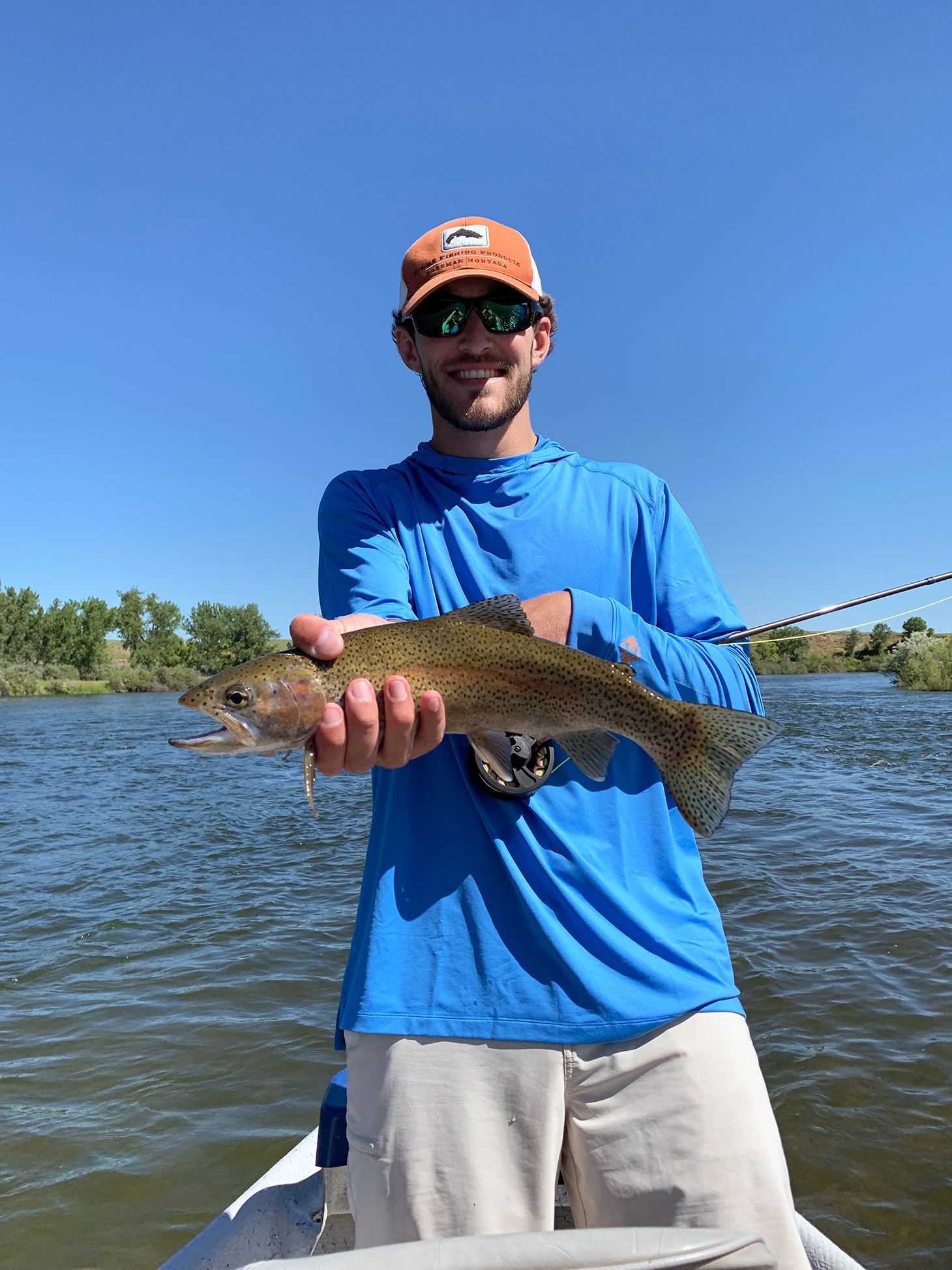 River Data:
River flow: 8500 cfs
Water Temp: 56.5 F
Water Clarity:  Clear but a little grassy
Moss and grass Factor:  Not bad at all.  Completely fishable to Bighorn Fishing Access
SOW BUG mania.  The fish are targeting big sow bugs and that's just about it.  We're coming up on PMD time but the fish seem to be ignoring them and concentrating their entire effort on sow bugs.  This is good and bad for fisherman on the Bighorn River.  Mostly good.  We're all anxious to fish PMD dry flies and catch fish on a pmd dropper in the shallow water so it's a little disappointing that the fish aren't looking for them.  HOWEVER the bug selection is easy to catch multiple big beautiful Bighorn Trout on the Bighorn river.  Tie on a sow bug, any sow bug.  It seems that all patterns are working great!  Just make it a big one.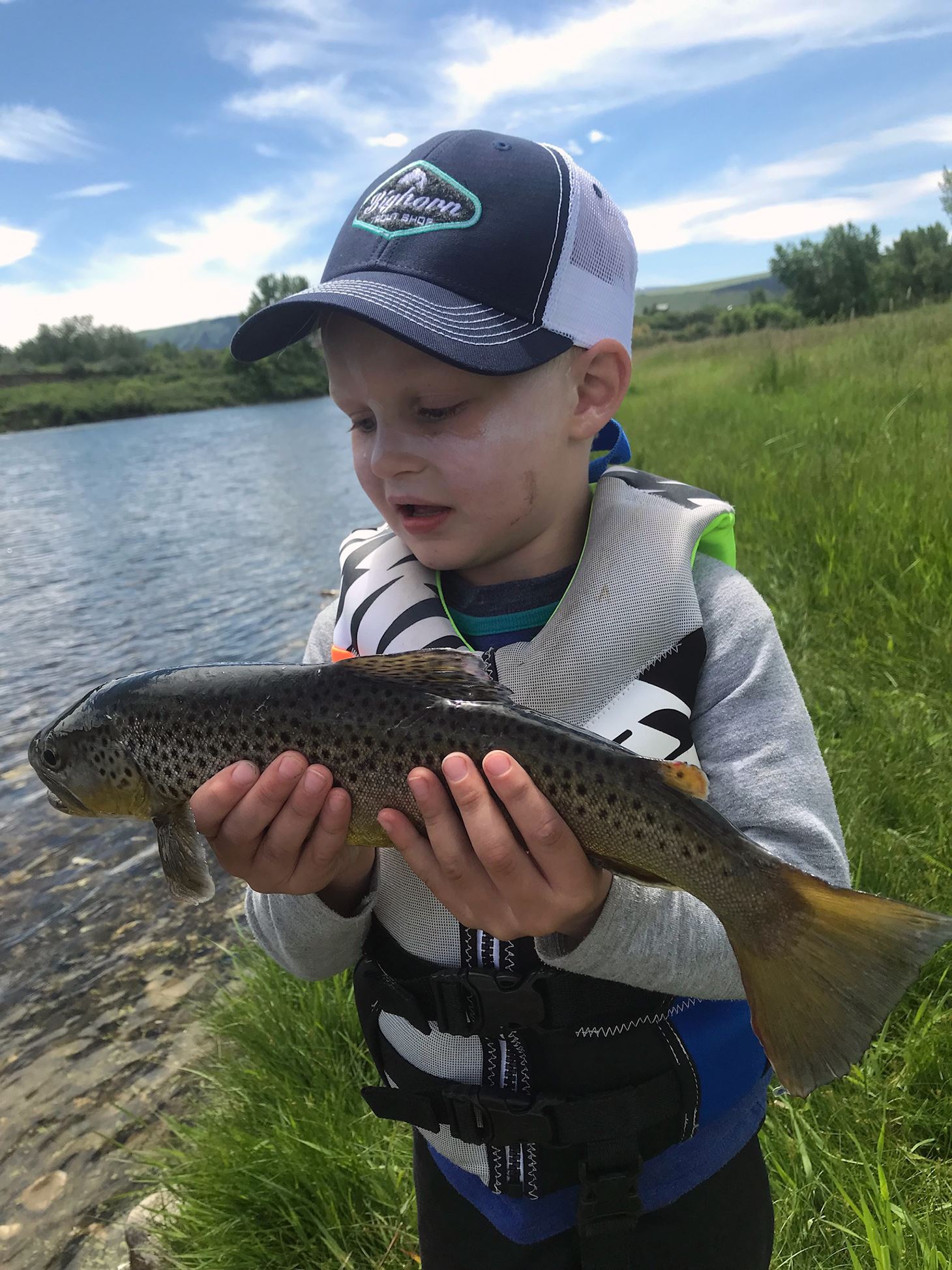 Hot Flies:
Nymphs: BIG sow bugs, scuds, PMD Nymphs and worms
Method: 6-foot 3x or stronger leader to 2 bb's or a 3o size chunk of tungsten putty.  1ft or so to the first fly and1ft or so to the second fly on your 4x tippet.   Fish deep and slow.
Size 12-18 Tan Soft Hackle Ray Charles
Size 12-18 Bead Head Pink Soft Hackle
Size 12-18 Carpet Sow Bug Gray and Tan
Size 12-18 Eddie Vetter both tan and grey
Size 16-18 Pink Soft Hackle
Size 12-16 Scuds (natural, pink, orange and olive)
Size 14-18 PMD Nymphs (pheasant tail, wonder nymph and traditional PMD Nymph)
Fish it like a freestone.  Keep the leaders shorter and the weight heavy enough to get down to the fish in a hurry.  Fish outside in casting to water that's 1-2 feet deep and moving at a medium speed.  The heavy seam lines don't seem to be holding as many trout as the shallower riffles are.  Fish a big sow bug or two at a time if you like.  The San Juan worm has been working occasionally for some of the bigger fish but the mass population of trout is targeting sow bugs. 
Dry Flies: Pseudo nymphs and PMD's
Method: 9-foot 5x leader to the top fly. 1ft or so leader to the second fly.
Size 16-18 Pseudo spinners
Size 16-18 PMD Dry Flies
The dry fly fishing is still slow on the Bighorn River, but it's getting better.  If you look hard enough you can find pockets of trout sipping in the slow waters on the bank.  Fly selections can be tricky.  Make sure while your fishing to fish eating dry flies you look carefully around your legs to see if it's PMD's or pseudo spinners that the fish are targeting. 
Streamers:
Method:  5 foot heavy leader with a loop knot to the streamer
Colors: Any color nothing particular stands out.
We were hoping that the shiner minnow was really going to come into play, but it seems that they aren't having as big an impact as we thought.  That and the fish are so concentrated on large sow bugs that it's hard to commit to streamer fishing.  That said if I were to throw a streamer on any day I would make it some sort of shiner minnow imitation. 
Happy Summer fishing from Forrester's Bighorn River Resort!