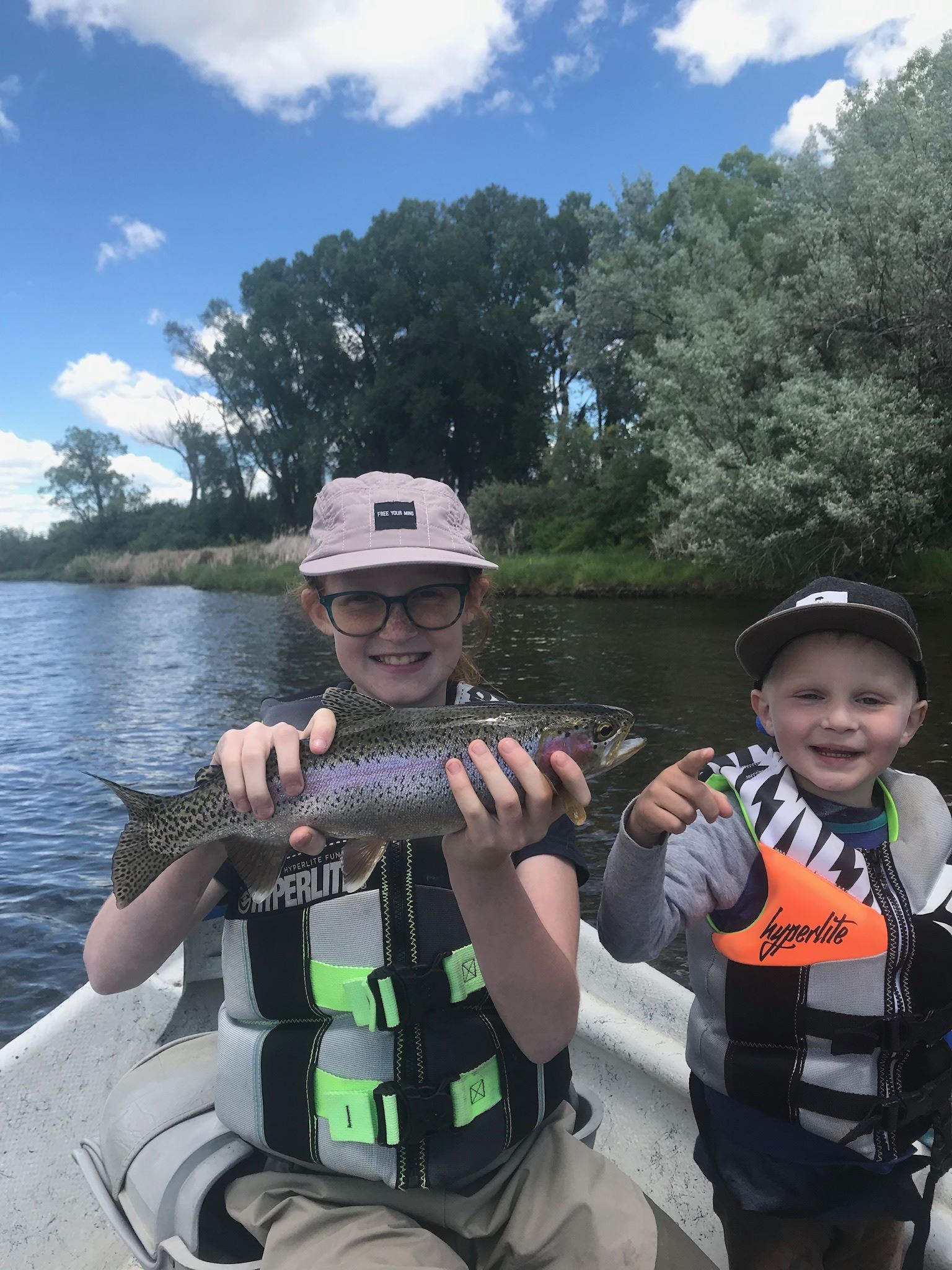 River Data:
River flow: 9500 cfs
Water Temp: 56 F
Water Clarity:  Clear but a little grassy
Moss and grass Factor:  Not bad at all.  Completely fishable to Bighorn Fishing Access
The Core of Engineers has requested another pull back to help alleviate the flooding in the Midwest on the Missouri and the Mississippi River.  The Reservoir is filling up and it's inevitable that we will have a little more of high water, but the fishing has been great.  The water temperature is perfect for the trout bite and they are eating aggressively.  Today the fishing was incredible.  Everywhere a trout should eat we caught them.  The water is clear and the moss factor is extremely low to Bighorn Fishing access.  Fish are eating big nymphs.  Much bigger than in the past.  Size 10-12 sow bugs and scuds are crushing it!
The shiner minnow is back on the Bighorn River.  We though they days of the shiner minnow were done, but they have showed up again.  Nobody is reporting great success sinking one under the indicator or catching them on a streamer.  Everyday you see trout crashing them on the banks.  It's only a matter of time until they key into them again. 
Hot Flies:
Nymphs: BIG sow bugs, scuds, PMD Nymphs and worms
Method: 6-foot 3x or stronger leader to 2 bb's or a 3o size chunk of tungsten putty.  1ft or so to the first fly and1ft or so to the second fly on your 4x tippet.   Fish deep and slow.
Size 12-18 Tan Soft Hackle Ray Charles
Size 12-18 Bead Head Pink Soft Hackle
Size 12-18 Carpet Sow Bug Gray and Tan
Size 12-18 Eddie Vetter both tan and grey
Size 16-18 Pink Soft Hackle
Size 12-16 Scuds (natural, pink, orange and olive)
Size 14-18 PMD Nymphs (pheasant tail, wonder nymph and traditional PMD Nymph)
Fish have moved away from the fast water in the center of the river and congregated in the medium speed water between the bank and the center of the river.   Search out the cleared gravel spots in the medium speed water and you'll have success.   Don't ignore the center river shelves.  You'll only get one shot at them but they almost always produce a fish.  Mending is crucial right now.  If your fishing the tight bank water make sure you get a good drift. 
Dry Flies: Occasional Blue Wing Olives and Pseudo nymphs.  SOME PMD's
Method: 9-foot 5x leader to the top fly. 1ft or so leader to the second fly.
Size 16-18 Baetis Duns and Spinners  (smoke jumper, cripple thor)
Size 16-18 PMD Dry Flies
There isn't much for dry fly fishing on the Bighorn River right now, but that's normal for this time of year, high water or not.  Traditionally this time of year is in between good dry fly fishing.  However lots of large PMD nymphs are being pumped out of trout stomachs and the water temperature is about right for PMD's so it's any day no that the PMD's will start to pop.   Keep your eyes on the heavy seem lines slow inside water. 
Streamers:
Method:  5 foot heavy leader with a loop knot to the streamer
Colors: White Emerald Shiner colors.
With all the high water the shiner minnows have started to show up in the river, spilled over from the lake.  Fish a white streamer into the slack water on the bank and SLOWLY pull it out into the current and hang on!  It could be incredible. 
Happy Early Summer fishing from Forrester's Bighorn River Resort!