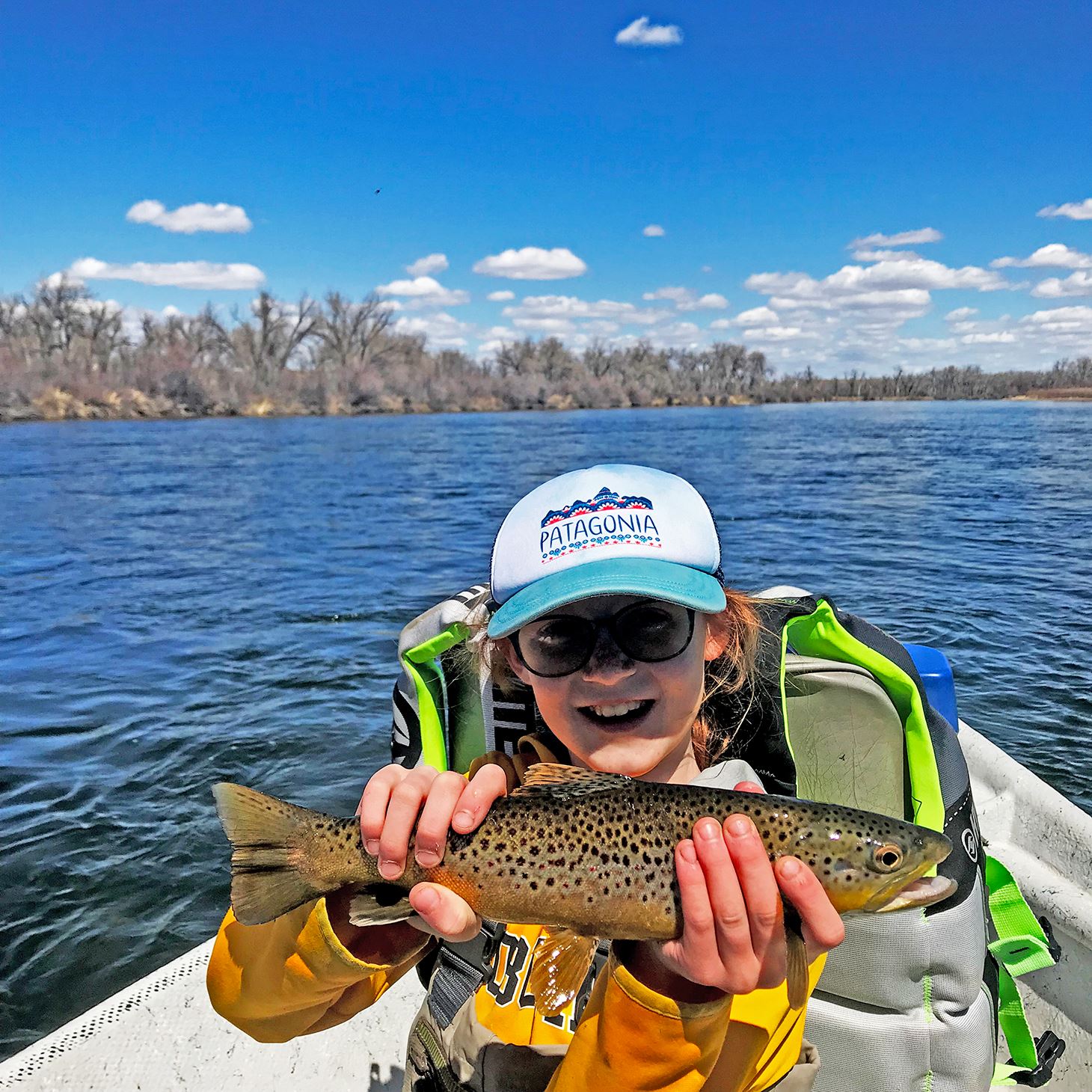 River Data:
River flow: 3300 cfs
Water Temp: 36 F
April showers bring Mayflowers and Mayflies! The Bighorn is all queued up for some incredible late spring and early summer fishing. So far the river remains at traditional Bighorn levels. The lake volume is low and the BOR is still releasing a little bit more water than what's coming in. Snow pack in the mountains crept up a little bit these last few days, but nothing like what it has been in the last few years. Optimistically we're hoping the flows stay low with only a brief increase in late May or early June. The water is cold, but crystal clear.
Hot Flies:
Nymphs: Sow Bugs, Baetis Nymphs, Midges, some Scuds.
Method: 8-foot 3x or stronger leader to 2 bb's or one 3o. 1ft or so to the first fly and1ft or so to the second fly on your tippet. Fish deep and slow.
Size 16-18 Tan Soft Hackle Ray Charles
Size 16-18 Gray Soft Hackle Ray Charles
Size 16-18 Carpet Sow Bug Gray and Tan
Size 14-18 Olive and Orange scuds
Size 18-22 Black Baetis Nymph
Size 16-20 Wonder Nymph (olive and black)
Size 18-22 Zebra Midge (black, olive and red)
Size 18-22 Serendipity (black, olive and red)
The water temperatures are cold so the trout are sticking together in the deeper slow water. Often times it seems like they only pick a few holes to hold up in. There might be a pocket of warm water that is turning their metabolism up, or a large food source they are keying into. We know that they don't seem to be feeding aggressively everywhere this time of year. Don't get discouraged if you're traditionally springtime hole isn't producing. Move to another and try again. The fish aren't striking very hard so be ready to set on the slightest movement of the indicator.
Dry Flies: Spring Baetis (Blue Wing Olives)
Method: 9-foot 5x leader to the top fly. 1ft or so leader to the second fly.
Size 16-18 Baetis Duns and Spinners (smoke jumper, cripple thor)
Size 18-20 Midge Patterns
Big Blue Wing Olives in the afternoons. It seems they are here and the fish are definitely looking for them. It's a little tougher to find heads right now as the water temperatures are keeping the fish out of the traditional spring dry fly spots. After this warm rain and the warm temperatures coming this week the water temperature should start climbing. Moving the fish into better dry fly water. The Baetis dries we've noticed this year seam to be darker in color. So maybe try a darker Mayfly pattern.
Streamers:
Colors: Olive, Black, And White
The water temperatures are so cold that fish aren't moving very far or fast for food. The streamer fishing is pretty slow. The lake levels are low and the snow pack as well. It's unlikely we'll have the shiner minnow "hatch" in the river this year
Happy spring fishing from Forrester's Bighorn River Resort