Fishing Report 11/27/2017. The Bighorn River is free of most of the floating grass. Which makes for easy decoy management and great fishing!
River Data:
River flow: 4,000 cfs
Water Temp: 54 F
Mountain Snow pack: On the rise but sticking there.
Lake Inflow: 3400 cfs
Lake Level: 98.8% full.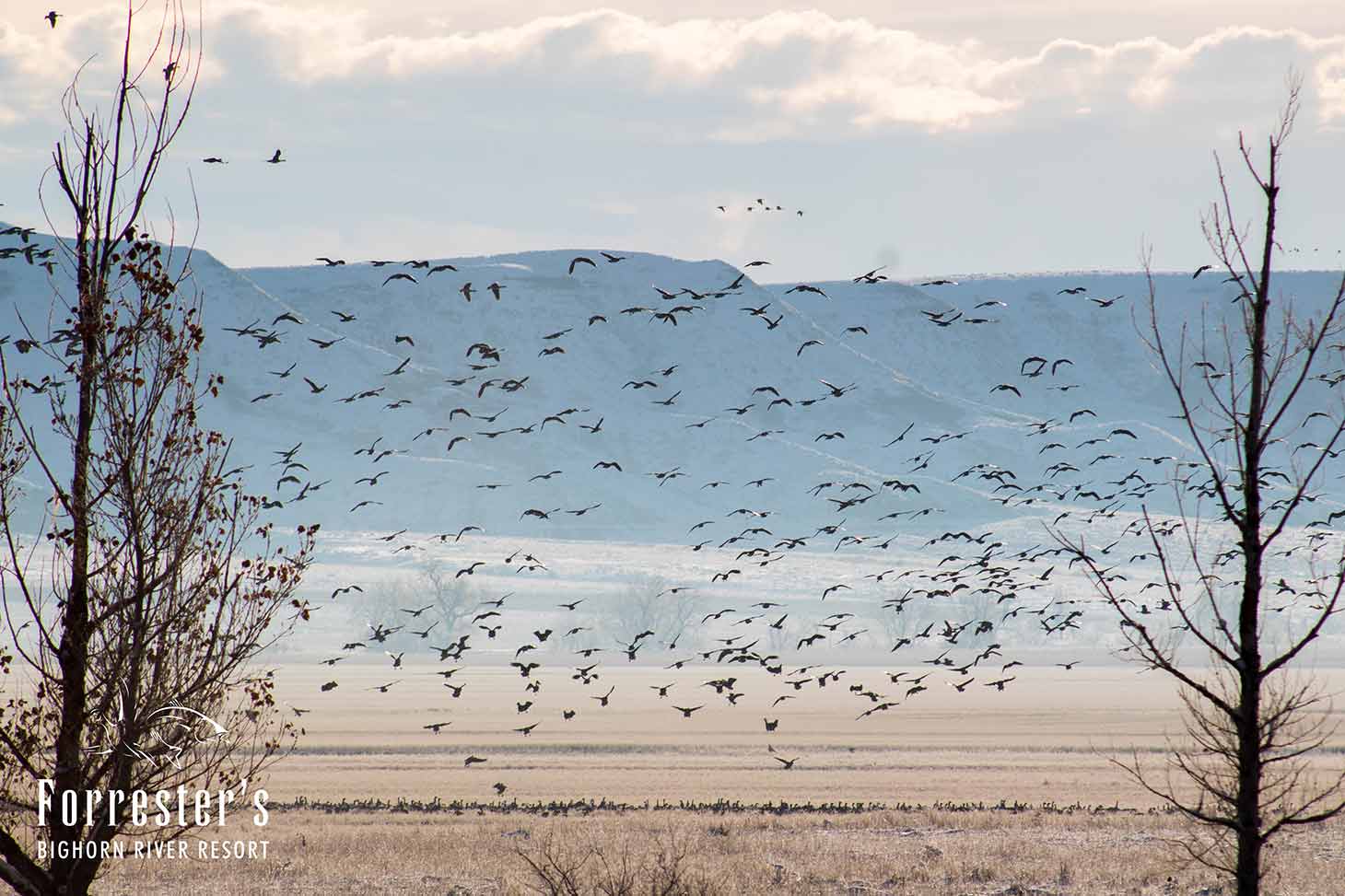 Hot Flies:
Nymphs: Sow Bugs and Scuds
Method: 7.5 foot 4x or stronger leader to one 3o split shot. 1ft or so to the first fly and1ft or so to the second fly.
Size 14-18 Grey Ray Charles
Size 14-18 Tan Ray Charles
Size 12-16 Orange Scud
Size 12-16 Natural Scud
Size 16-20 Baetis Nymph
River temperatures are holding steady at 54 degrees making the trout hungry for fall baetis, scuds and sow bugs. The midge bite hasn't really been much to speak of. The brown trout are in full spawn and moving up onto the spawning beds. The deeper pools below the spawning beds have been known to hold bigger browns waiting their turn to spawn in the evenings. Fall baetis are in full swing and the trout are definitely targeting them sub-surface.
Dry Flies: Maybe midges and BWO's
Method: 9 foot 5x leader to the top fly. 1ft or so leader to the second fly.
Size 18-20 Midges
Size 18-20 Blue Wing Olives
Fish are chowing baetis on the surface in every place you think a trout should be eating dry flies. Be sneaky with smaller patterns as they seem to work a little better than the large BWO patterns. Traditionally cloudy afternoons are the best for fall dry fly fishing, however this fall sunny days haven't deterred the baetis from hatching. Trout are eating them everyday!
Streamers: Anything to attract aggressive Brown Trout.
Method: 4-6 foot 0x or stronger leader to your first fly and 1-2 feet to your bottom fly.
Colors: White, olive, black, brown, red and yellow
The Brown trout are spawning and extremely aggressive on the beds. Don't pass up the opportunity to rip a streamer through a pod of trout and watch the wolf pack of browns chase it out of their home. Fall streamer fishing is an extremely exciting thing to do on the Bighorn River!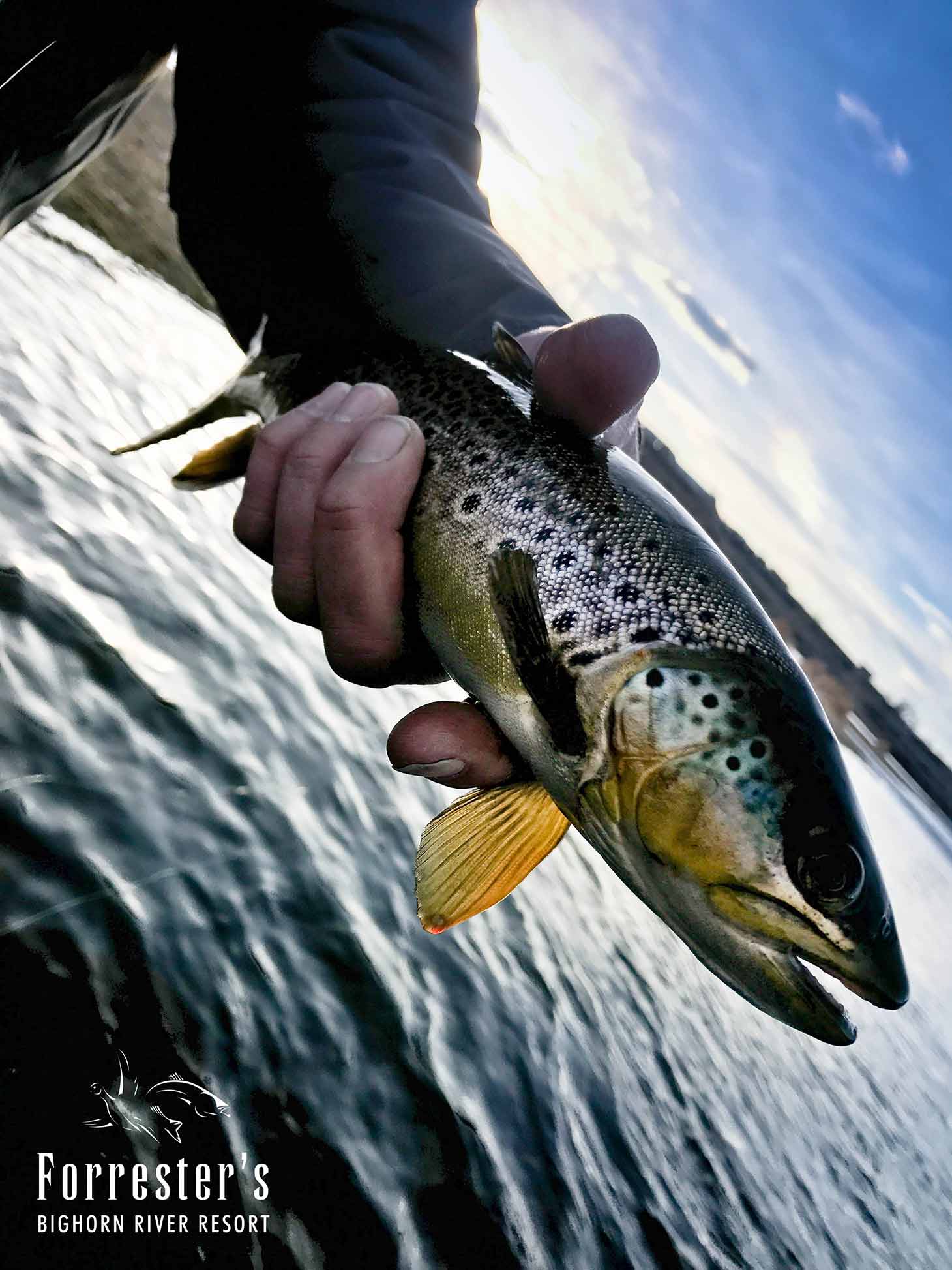 Waterfowl Hunting Report:
We had a great push of waterfowl with the last cold snap at the beginning of the month and the hunting was incredible! Unfortunately the weather has warmed up so much that it melted a lot of the surrounding ponds and rivers and the waterfowl have spread out again. The geese are very skeptical of the river and are primarily making the long flights from fields to the afterbay where they know they are safe. Our friends from the North tell us they are stacked up like cord wood so it's only a matter of time until they make their way back to the Bighorn River. An interesting point to note is that we have thousands of snow geese around right now. Usually the Bighorn River doesn't see many snow's. Who knows if they will stick around with the next cold push, but it was fun to hunt them when they were here. To sum it up the waterfowl hunting is tough right now. They saw a lot of hunting pressure in the early season and got savvy on the river program. They'll be back!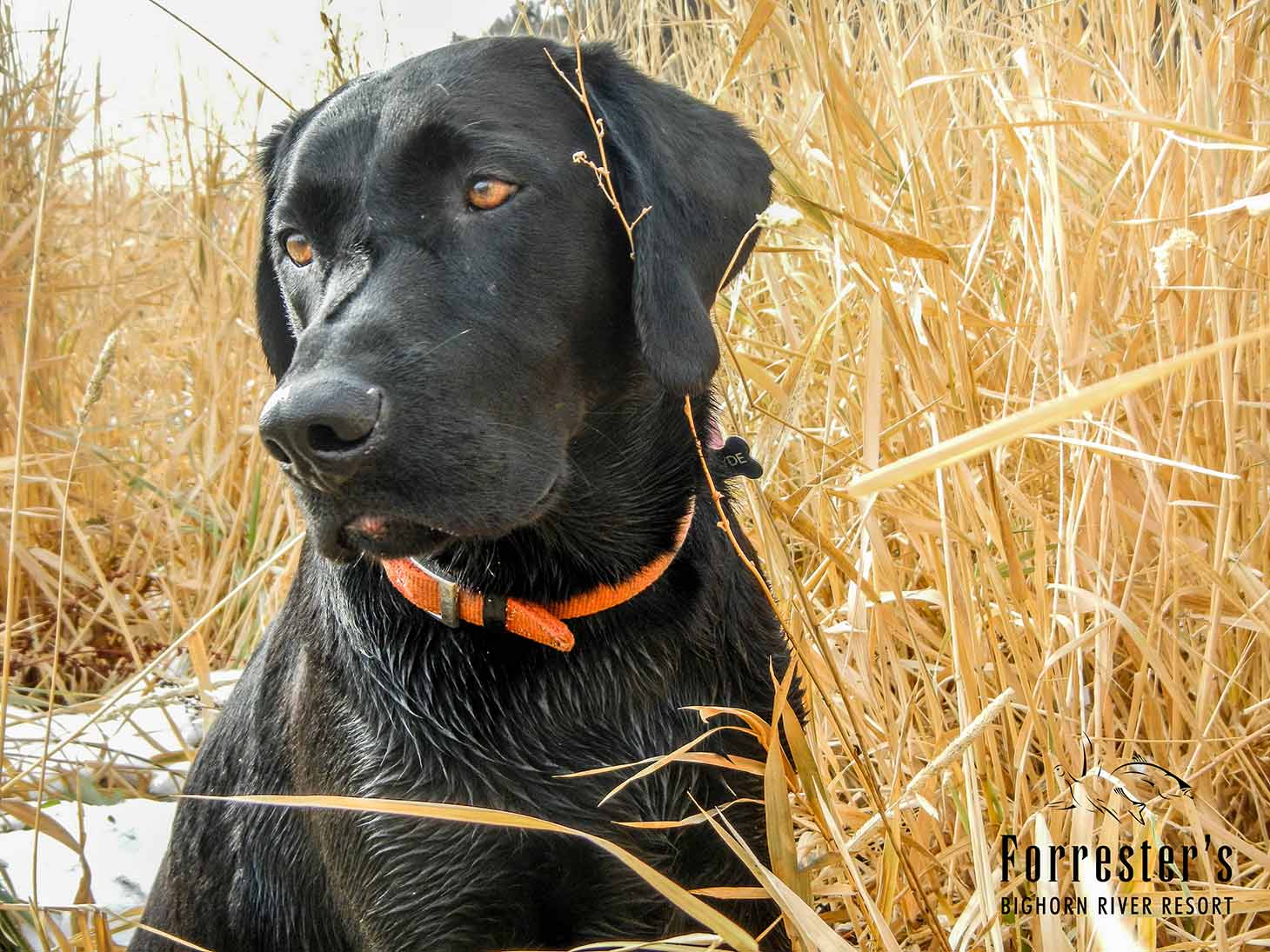 Upland Bird Hunting Report:
Pheasants had an ok hatch this year and are giving our hunters plenty of opportunities on the hunting properties. Hunn Partridge and Chukar did incredible and it's not uncommon for clients to shoot limits. The Sharp Tail grouse population seems to be pretty good. We aren't seeing as many as we have in the past, but they are still there. Sharp Tail tend to be a bit more migratory than the other birds and as the season progresses they will start moving to their breeding grounds on the hunting properties.
Happy Hunting and Fishing from Forrester's Bighorn River Resort!