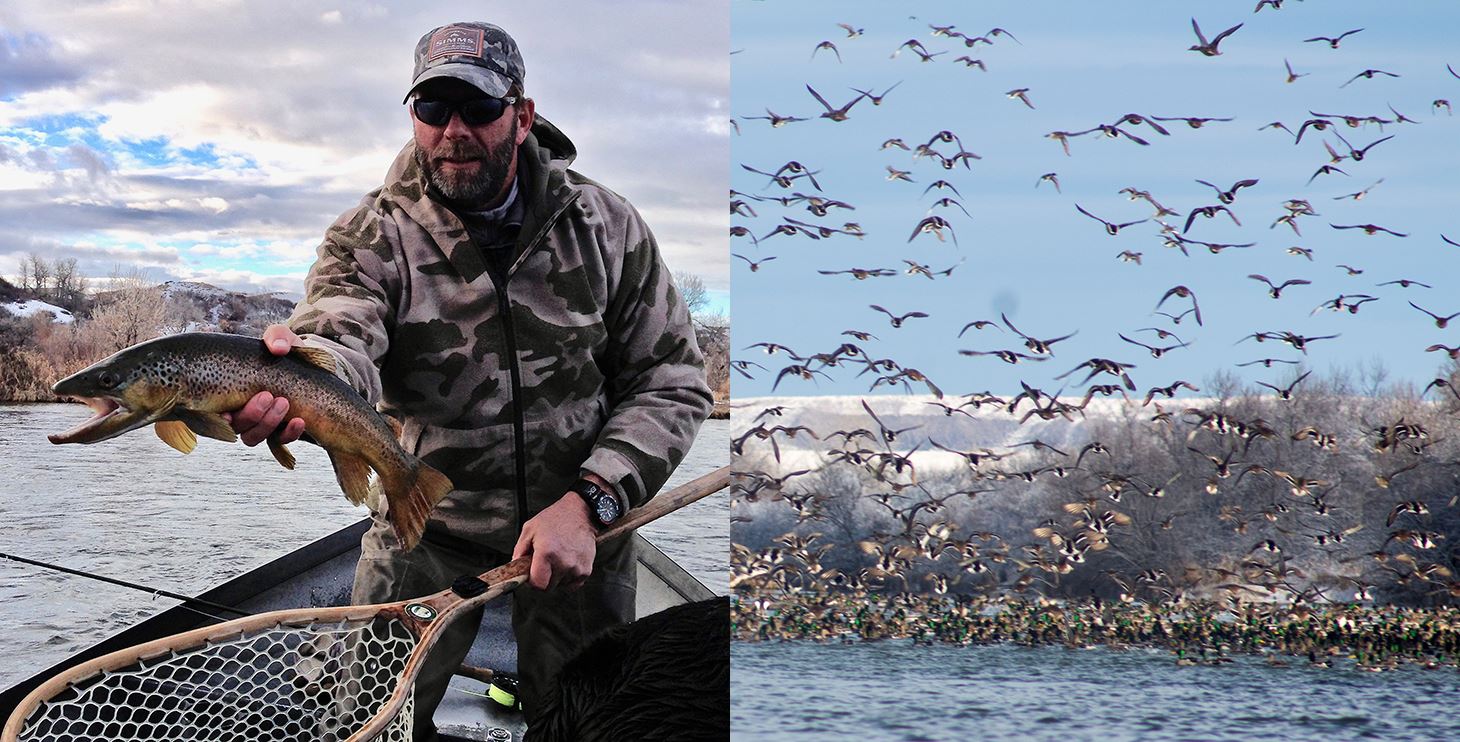 River Data:
River flow: 3000 cfs
Water Temp: 52 F
Water Clarity: Little Cloudy
Moss and grass Factor: Grass is breaking up and clearing out of the upper thirteen miles, but it's still a little bit of an issue further downstream.
Brown Trout are on the move. They are moving up on the spawning beds and getting extremely aggressive on streamers and other larger flies that get anywhere near the nesting areas. This is one of our favorite times to fish the Bighorn River. There are plenty of trout and they are easy to find. Search the shelves for trout and dig deep below the shelves for the nocturnal monsters awaiting their turn after the sunsets. The Rainbows will also be in the deeper water below the spawning beds awaiting tasty brown trout eggs. Brown trout will be in little pocket spawning beds along the banks. This makes them extremely fun to throw streamers for.
Hot Flies:
Nymphs: Big Orange Scud, Sow Bugs, Baetis Nymphs
Method: 8-foot 3x or stronger leader to 2 bb's or a 3o size chunk of tungsten putty. 1ft or so to the first fly and1ft or so to the second fly on your 4x tippet.
Size 12-18 Baetis Nymphs
Size 12-18 Bead Head Pink Soft Hackle
Size 12-18 Carpet Sow Bug Gray and Tan
Size 12-18 Eddie Vetter both tan and grey
Size 16-18 Pink Soft Hackle
Size 12-16 Scuds (natural, pink, orange and olive)
Size 18-22 Pheasant tail
The Brown trout are starting to spawn aggressively and have moved up on to the shelves and on the banks to do their annual dance. Concentrate the majority of your nymphing efforts in the deeper water below the shallow riffles that Browns may be spawning in. Go easy on wade fishing the spawning beds. In fact we suggest that you don't try to do it at all. Give those trout a chance reproduce. All the trout in the Bighorn River are wild. This is what makes the Bighorn River such an amazing trout fishery.
Dry Flies: Blue Wing olives and BIG ones
Method: 9-foot 5x leader to the top fly. 1ft or so leader to the second fly.
Size 16-18 Pseudo spinners
Size 16-18 Blue wing olive's (cripple thor, adams, sparkle dun and smoke jumpers.
The blue wing olive hatch has slowed down a little, but there are still a few trout sipping in areas where the mayflies pile up. Concentrate on the heavy seam lines and slow water tail outs. Any combination of those two and you'll have a winner.
Streamers:
Method: 5 foot heavy leader with a loop knot to the streamer
Colors: Black and Olive
Brown trout are on the spawn and the streamer fishing has been exciting. Any color will work ok, but stick to the old mantra; darker days darker streamers and lighter days lighter colored streamers.
Waterfowl Watch:
First it's warm then it's rally cold, then it's warm, then it's really cold again. Typical Fall weather it seems like lately on the Bighorn River. The colder the weather the better a water fowler's chances are on the Bighorn River. The geese and ducks are about 75% migrated to the Bighorn River valley, but they are taking refuge in many of the thawed cattle reservoirs or standing water in the irrigation ditches. This makes them seem extremely illusive. They are here we just need a little weather to help us out.
Happy Fall fishing and bird hunting from Forrester's Bighorn River Resort!