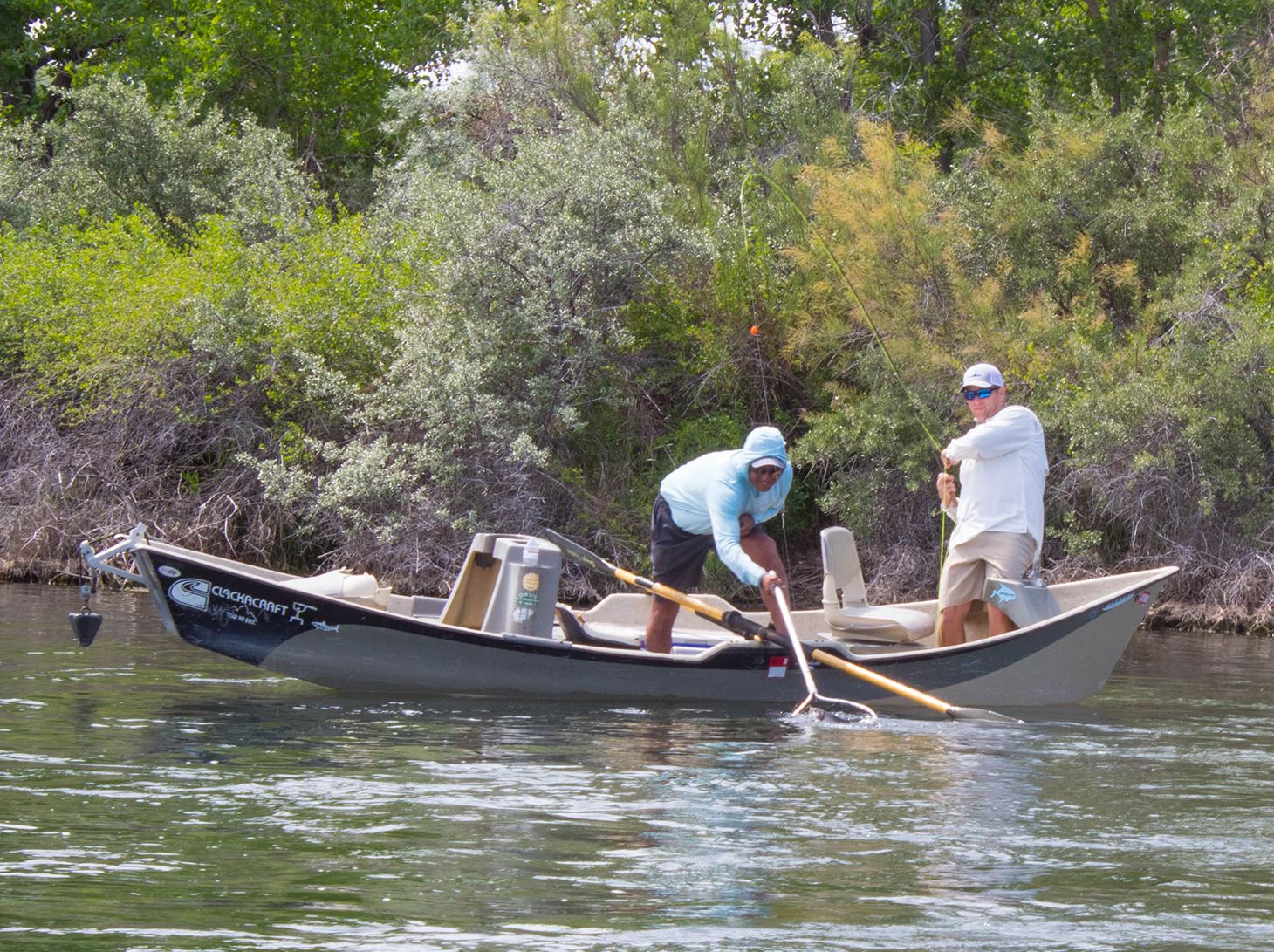 River Data:
River flow: 5000 cfs
Water Temp: 59 F
The river is finally back to the normal Bighorn River flows and the fishing seems to be day to day. Dry fly fishing consists of Trico's in the early mornings and Pseudos sporadically throughout the day. While the nymphing is back to the usual Bighorn Suspects Sow Bugs and Scuds.
Hot Flies:
Nymphs: Sow bugs, caddis emergers, pseudo nymphs, scuds, sunken trico.
Method: 7 foot 3x or stronger leader to one BB and B. 1ft or so to the first fly and1ft or so to the second fly on your tippet.
Size 16-18 Tan Soft Hackle Ray Charles
Size 16-18 Gray Soft Hackle Ray Charles
Size 16-18 Carpet Sow Bug Gray and Tan
Size 16-20 Caddis Emerger (Poodle sniffer, big mac, or bead head caddis)
Size 18-22 Pseudo wonder nymph
Size 18-22 Pseudo Quill Nymph
Size 18-22 Sunken Trico
Fish are targeting both on the surface and slightly below. Pseudo nymphs and sow bugs are still the best bet for subsurface nymph fishing on the upper thirteen miles. The good worm bite has come and gone, so dig out your trusty, rusty Bighorn River favorite's. Sow bugs, scuds and caddis emergers.
Dry Flies: Caddis and Trico's in the early mornings.
Method: 9 foot 5x leader to the top fly. 1ft or so leader to the second fly.
Size 16-20 Black Caddis patterns. Both Black CDC and elk hair caddis patterns are working well.
Size 18-22 Trico spinners
Size 18-22 Trico duns
A plethora of dry fly fishing has all of a sudden emerged on the Bighorn River. If you're an early bird fish the Trico spinners and duns at first light. If you're a bankers hours fisherman you can find fish eating pseudo may flies in the middle of the day. If you're the night owl you can catch them on Black caddis in the evenings on the Upper Three miles. If you're a dusk til dawn type of fisherman you can catch them all day on dry fly flies!
Streamers: Shiner minnow and tiny hatching rainbow, sucker and white fish fry patterns.
Method: 4-6 foot 0x or stronger leader to your first fly and 1-2 feet to your bottom fly.
Colors: White, olive, black, brown, red and yellow Especially WHITE
The streamer bite has been slower as there are tons of other bug life for fish to eat. But there are still opportunities. Chuck them to the banks and the riffles as the fish are in that water eating other small bugs.
Happy summer Fishing from Forrester's Bighorn River Resort!