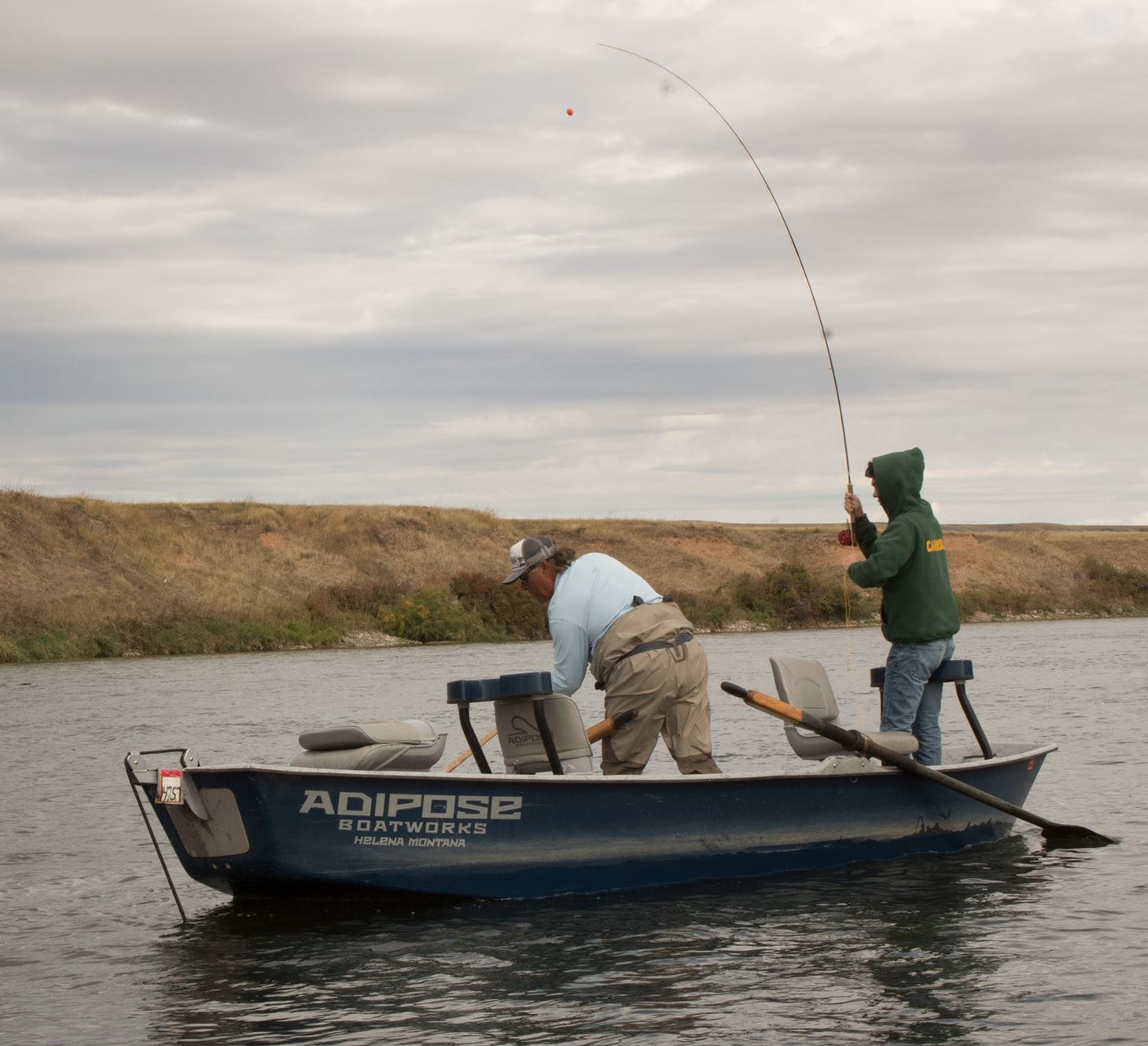 River Data:
River flow: 3000 cfs
Water Temp: 62.5 F
The thermocline in the lake is starting to reform itself. This means that the water coming through the turbines is clear and cooling off fast. This is just what the Trout Doctor ordered. The cooler water temperatures have given way to great Baetis hatches and increased trout activity. The fishing is good on the Bighorn River, especially the dry fly fishing on cloudy days. For the first time since August the trout are eating dry flies extremely aggressively on the first thirteen miles!
Hot Flies:
Nymphs: Sow bugs, Baetis nymphs, Pseudo nymphs and scuds.
Method: 4-7 foot 3x or stronger leader to one BB. 1ft or so to the first fly and1ft or so to the second fly on your tippet.
Size 16-18 Tan Soft Hackle Ray Charles
Size 16-18 Gray Soft Hackle Ray Charles
Size 16-18 Carpet Sow Bug Gray and Tan
Size 14-16 Olive and Orange scuds
Size 18-22 Black Baetis Nymph
Size 16-20 Wonder Nymph (olive and black)
Size 18-22 Pseudo Nymphs
The worm bite has finally faded away and yielded the usual fall suspects. Baetis, sow bugs and scuds. The water is cooling down and the trout are starting to eat more regularly now. They are moving out of the deep water and into the riffles to eat. There us still a ton of grass growing and floating on the surface so be sure to aim your casts around the grass mats. The shallower faster water spots don't usually have grass growing and fortunately that's where the trout want to be in this cooler water.
Dry Flies: Fall Baetis, trico, Pseudo's
Method: 9-foot 5x leader to the top fly. 1ft or so leader to the second fly.
Size 16-20 Baetis Duns and Spinners (smoke jumper, cripple thor)
Size 18-22 Trico spinners
Size 18-22 Trico duns
Size 18-20 Pseudo duns and spinners
Fall Baetis are HERE!! The fish have moved back into the riffles looking for the emerging baetis nymphs. On the right cool cloudy days, the dry fly fishing has been phenomenal. The trout are eating dry flies in pods of 60 and 70, just like you would expect on the Bighorn River. The water is crystal clear and the trout are still a little spooky. Make sure your casts are gentle and perfectly placed to increase your opportunity of catching trout on a dry fly.
Streamers:
Colors: White, olive, black, brown, red and yellow Especially WHITE
The fall streamer bite hasn't really kicked in yet, but there are some trout looking. Concentrate your streamer efforts in the riffles, below the shelves and the fast heavy banks.
Happy Early Fall Fishing from Forrester's Bighorn River Resort!