Forrester's Fly Bench Fishing Report 5/20/2018.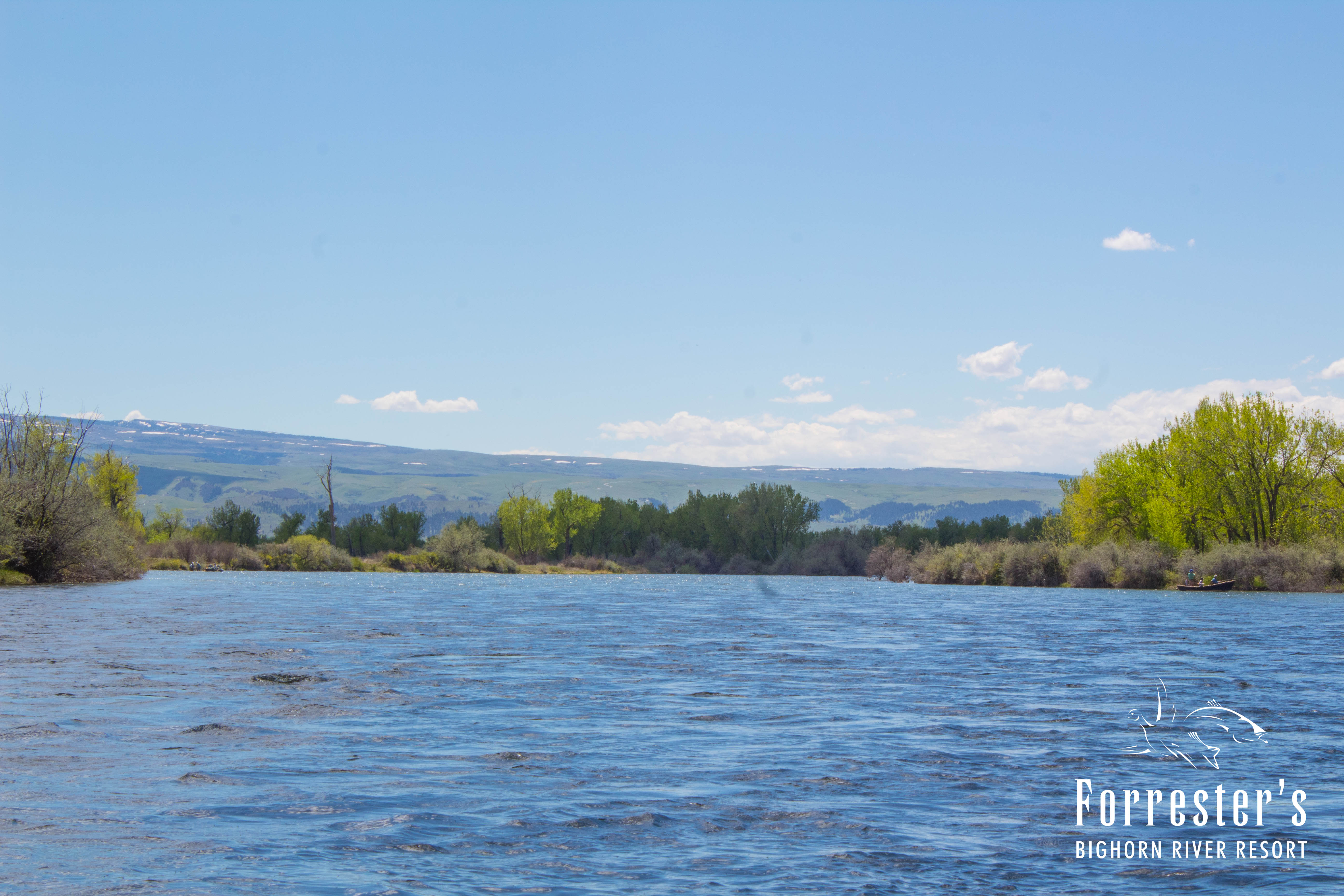 River Data:
River flow: 8100 cfs
Water Temp: 49 F
Bighorn Basin Snow Pack: 94% and declining.
The weather has been improving and the fishing has been good. Dry flies depend on the day and so does the minnow bite. On some days the trout are crushing the minnow, but on other days it seems that they avoid it. It's our opinion that if a giant bait ball from the lake gets sucked over the dam and into the river then the trout will chow on them, sunny or cloudy.
Hot Flies:
Nymphs: Sow Bugs, BWO Nymphs, midges sunken streamer minnows
Method: 9 foot 3x or stronger leader to one 3o and a BB. 1ft or so to the first fly and1ft or so to the second fly.
Size 14-18 Tan Soft Hackle Ray Charles
Size 14-18 Cotton Candy
Size 14-18 Pink Soft Hackle
Size 16-20 Wonder Nymph
Size 10-12 White shiner minnow imitation
Size 16-20 Zebra Midge
The shiner minnow is working just fine on the right days, but the biggest all day producer has been the tan soft hackle Ray Charles. Fish the bugs in faster moving water over ledges and rocky gravels spots. The Rainbow are just barely getting going with the spawn so please don't target them. Trout numbers are a little lower on the Bighorn River and anything we can do to keep the fishery alive is appreciated.
Dry Flies: Midges BWO's
Method: 9 foot 5x leader to the top fly. 1ft or so leader to the second fly.
Size 18-20 Midge Patterns
Size 18-20 Griffith's Gnat
Size 18-20 Midge Cluster
Size 18-20 Student
Size 18-20 Adams
Size 18-20 Parachute Baetis
Size 18-20 Cripple Thor
If the weather is right the fish are chowing on BWO nymphs. They are sticking to the softer water spots to eat, but are definitely eating on the surface. Just three days ago the trout were eating all BWO's all over the river in the right spots. It has to be cloudy, cold and rainy. If you're here on those days don't stay in the cabin. Get out there and FISH!
Streamers: Exceptional!!!!!!!
Method: 4-6 foot 0x or stronger leader to your first fly and 1-2 feet to your bottom fly.
Colors: White, olive, black, brown, red and yellow Especially WHITE
The shiner minnow interpretation is working well, but you have to get creative with the shiner minnow/ white streamer tie. Lots of people are running that fly and fish are getting a little savvy to it. Fish it behind the boat a few feet on your usual cast and let it swim. They seem to eat it really well on what I would think are random days. So I will theorize that it's whenever a giant bait ball of shiners gets pushed over the dam.
Happy early summer Fishing from Forrester's Bighorn River Resort!