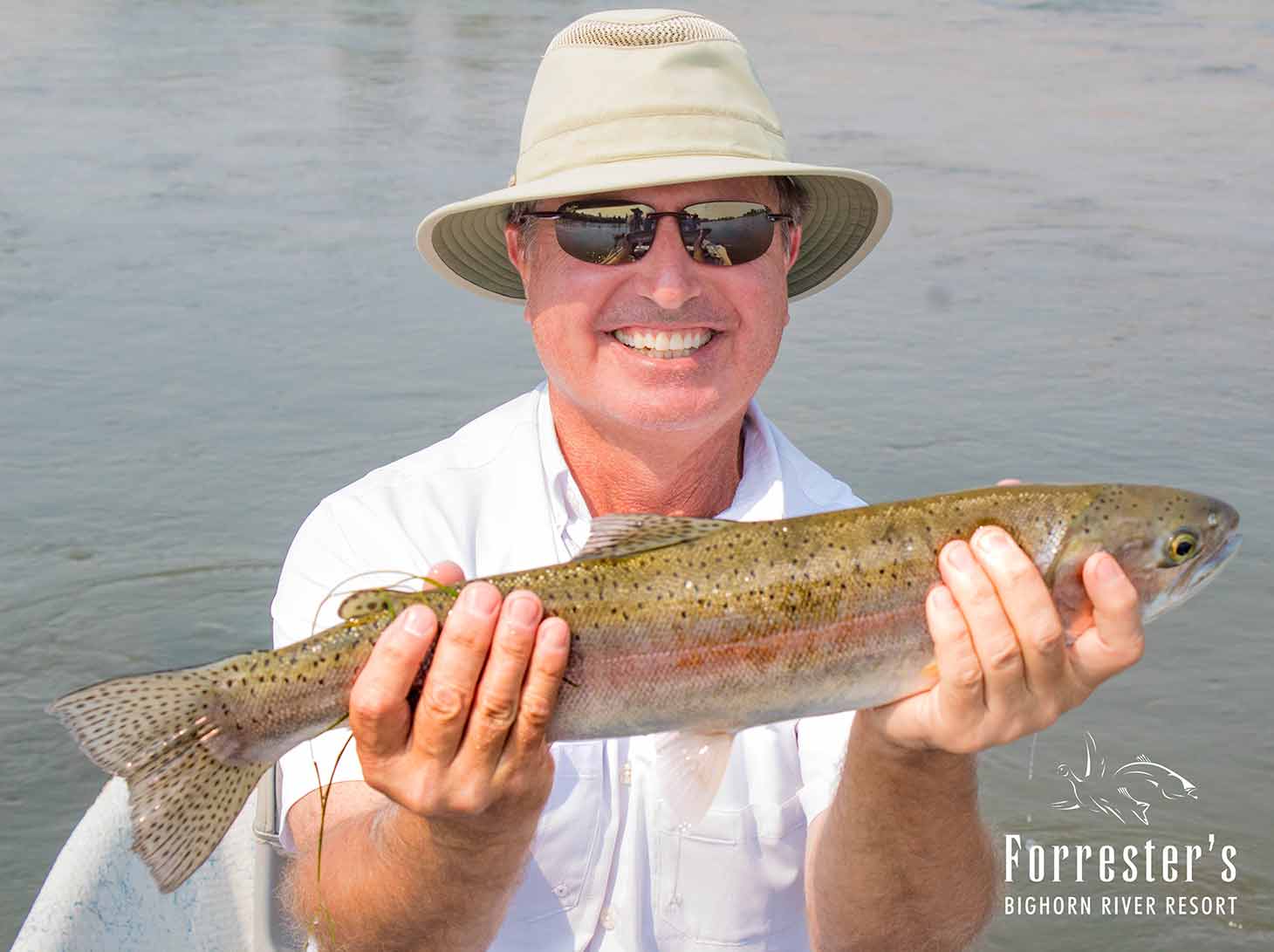 River Data:
River flow: 3,000 cfs
Water Temp: 64 F
Mountain Snow pack: 0% The snow is gone
Lake Inflow: 1,394 cfs
Lake Level: On target for normal
Hot Flies:
Nymphs: Sow Bugs, Sunken Trico, Pseudo Nymph, Orange Scud
Method: 7.5 foot 4x or stronger leader to one BB split shot. 1ft or so to the first fly and1ft or so to the second fly.
Size 14-18 Grey Ray Charles
Size 14-18 Tan Ray Charles
Size 16-20 Pink Soft Hackle
Size 18 -20 Sunken Trico imitations
Size 12-16 Orange Scud
Size 18-20 Pseudo nymphs. Yellow, light green and burnt pink.
The river is holding steady at 3,000 cfs and trico spinner fall is back in force. A sunken trico pattern in the morning is working exceptionally well fishing it in all depths. There's lots of grass growing in the river, but that's not always a bad thing for the fishing. With grass comes excellent scud habitat and fish will wait on the edge of the heavy grass lines for molting orange scuds to pop out. The fall orange scud bite is back! Pseudo mayflies are hatching in force as well and any good pseudo pattern or small pink soft hackle is working good. The pseudo imitation's seem to be working better below 5 miles down from the dam. This is perfect because the Orange scud is working better above the five mile marker, approximately the SBA. Sow bugs will always work on the Bighorn, but it seems the majority of the fish are tuned into the orange scud and pseudo imitations.
Dry Flies: Mahoganies, Tricos and Pseudo patterns.
Method: 9 foot 5x leader to the top fly. 1ft or so leader to the second fly.
Size 12-14 Mahogany spinners
Size 16-20 Trico spinner
Size 16-20 Trico duns
Size 18-20 Pseudo duns
Size 18-20 pseudo spinners
More than 600,000 acres have burned in Montana so far. Mostly on the Western part of the state where a massive Forest Fire is wreaking havoc. Our hats are off to the brave fire fighters trying to keep that fire at bay. Smoke from those fires has drifted into the Bighorn Valley and most of Eastern Montana making light conditions a little lower and often times trapping in heat. This means that an early morning start for trico's is critical. The primary spinner fall has been starting at around 7am. Keep a close watch on the water while your fishing trico spinners. Often times there are pseudo spinners in the mix.
Streamers: Little shiner minnows and spawned rainbow, whitefish, sucker and carp minnows.
Method: 4-6 foot 0x or stronger leader to your first fly and 1-2 feet to your bottom fly.
Colors: White, olive, black, brown and yellow
With the lower light conditions comes good streamer fishing. Many colors are still working and it depends entirely on the day which ones they want to eat. Trout can still be found crashing the surface in slow pools. These trout are chasing baitfish. This year many 24+ inch trout have been caught on the Bighorn River. The majority being caught on streamers!
Happy Fishing from Forrester's Bighorn River Resort