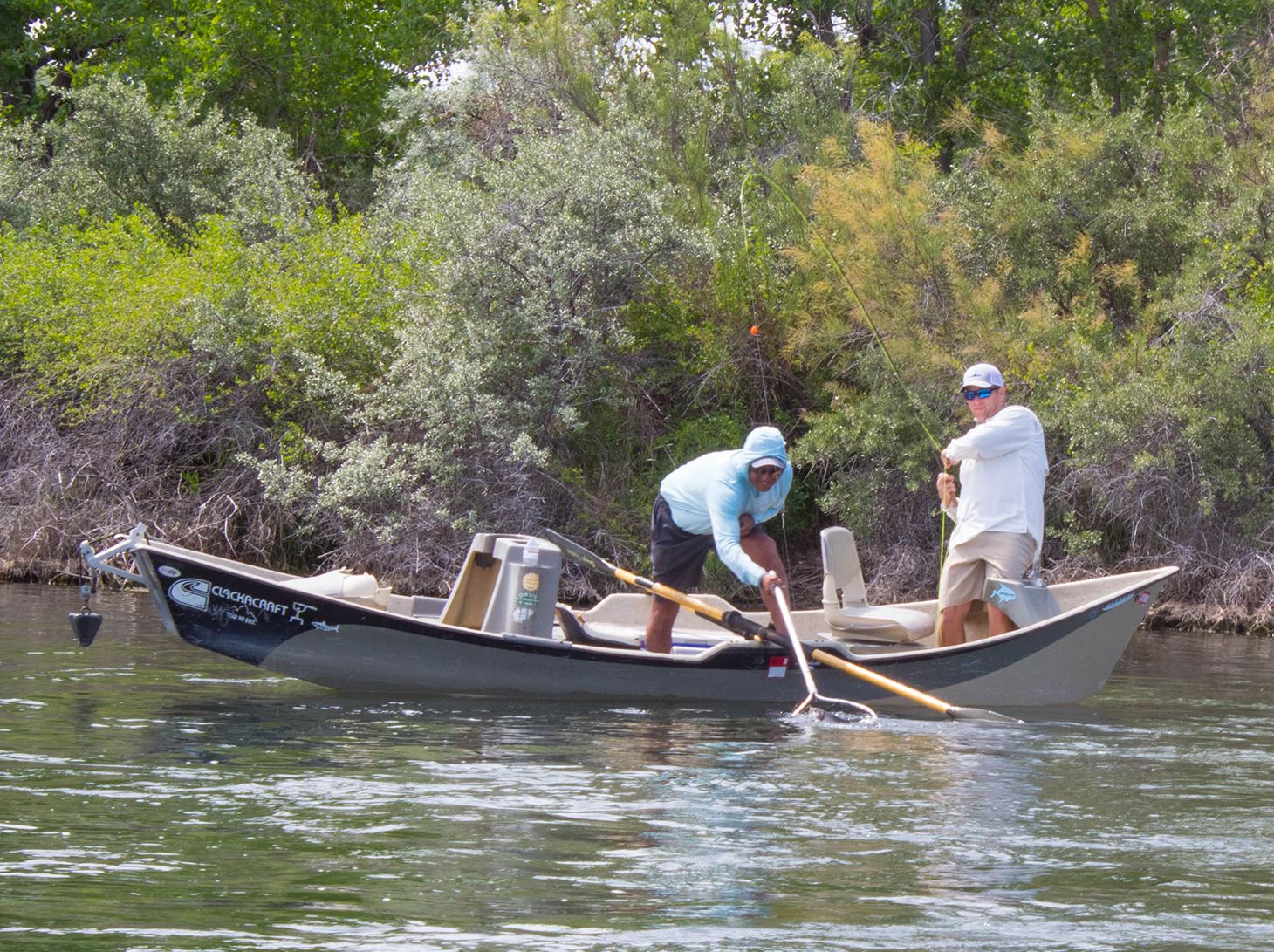 River Data:
River flow: 13300 cfs
Water Temp: 58 F
Bighorn Basin Snow Pack: 98% and slowly declining.
Inflows are the same coming into the lake as they are going out at a little over 13,000 cfs. Were hoping it doesn't get any bigger, but the fish still bite on the Bighorn River no matter what the river flows are. The river is a tail water which means it flows clear and clean no matter what! The fishing has been phenomenal these last couple weeks in high water and we don't expect to change a bit.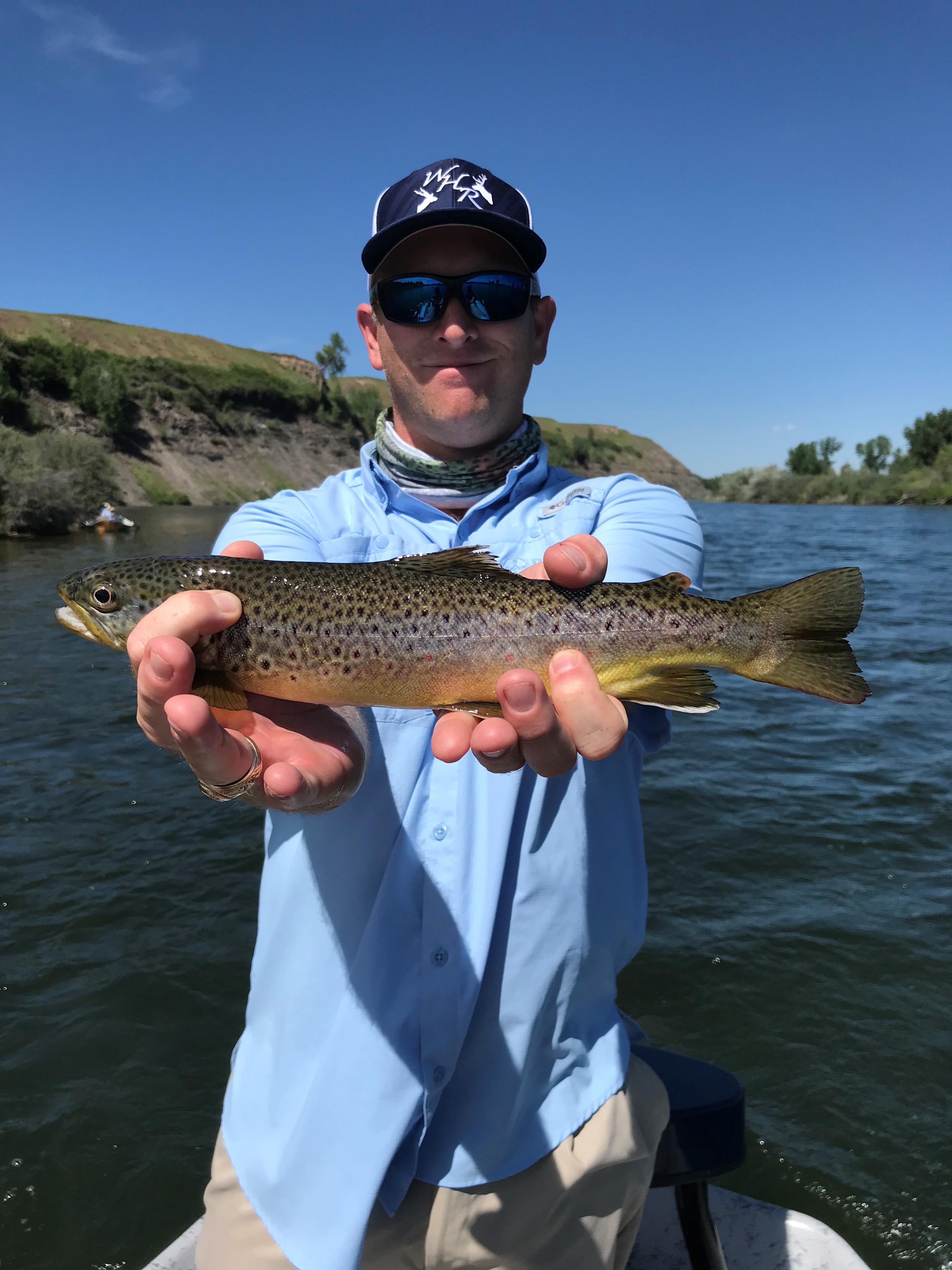 Hot Flies:
Nymphs: Sow bugs and worms
Method: 9 foot 3x or stronger leader to one 3o and a BB. 1ft or so to the first fly and1ft or so to the second fly.
Size 16-18 Tan Soft Hackle Ray Charles
Size 16-18 Pink Soft Hackle
Size 16-18 Grey Ray Charles
Size 16-20 Tan Soft Hackle
Size 10-14 White shiner minnow imitation
Size 2- 4 Steel worm (Orange, Red and Purple)
Size 6-8 Chenille worm (Red, wine and brown)
The shiner minnows have pretty much finished spawning on the lake which means they aren't hanging around the surface as much as they were a month ago. If they aren't hanging around the surface it means they aren't getting swept over the dam triggering a trout feeding frenzy in the river. Fish are back to eating the usual high water suspects; worms and sow bugs. A tricky pattern will help but a good ole' gray or tan ray charles is working great. The water temperature is warm so look for trout in fast riffles if you can find them. It will surprise you how many are in the water you wouldn't think would hold trout in these conditions. The Rainbow spawn is pretty much done or been fished so hard that those fish are hard to catch. So if you planned on a trip to the Bighorn to bottom bounce a bead, it's best you repack the fly box.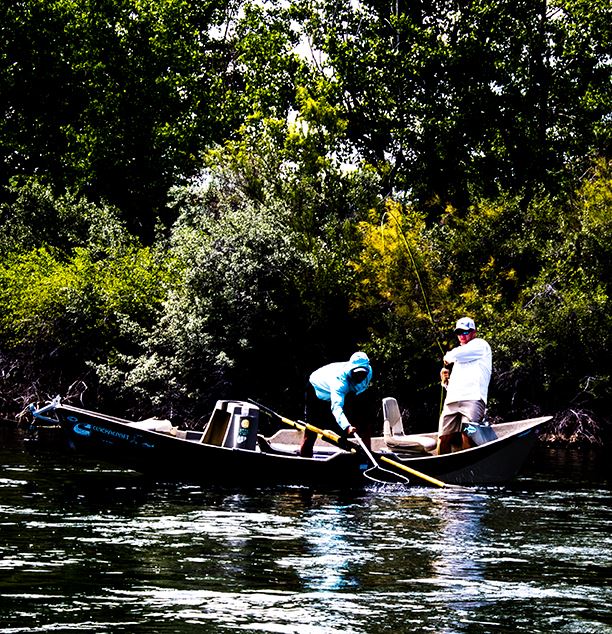 Dry Flies: Midges, PMD's and PED's MAYBE
Method: 9 foot 5x leader to the top fly. 1ft or so leader to the second fly.
Size 18-20 Midge Patterns
Size 18-20 Griffith's Gnat
Size 18-20 Midge Cluster
Size 16-20 PMD pattern's
Size 16-20 Adams
Size 18-20 PED patterns fished late in the day on the upper three.
Size 16-20 PMD emerger
Dry fly fishing is hard to find right now. It's the wrong time of year for any prolific hatches but an evening pale mayfly has been pooping off late from time to time on the first three miles of the Bighorn River (a-3). I think they are PED's (Pale Evening Dunns) but I'm not really sure. Whatever they are the trout are all over them on some days. Dry fly fishing isn't impossible, but it seems you have to be in the perfect place at the perfect time.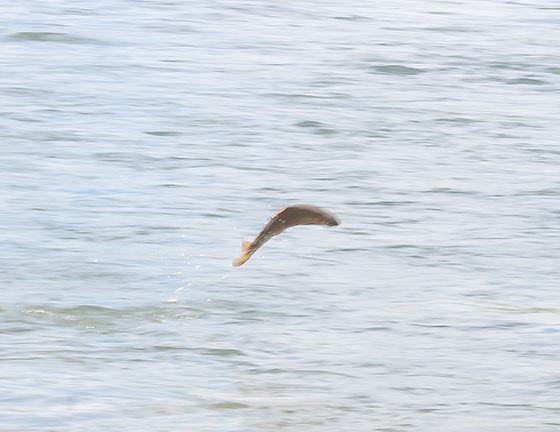 Streamers: Shiner minnow and tiny hatching rainbow, sucker and white fish fry patterns.
Method: 4-6 foot 0x or stronger leader to your first fly and 1-2 feet to your bottom fly.
Colors: White, olive, black, brown, red and yellow Especially WHITE
The shiner minnow bite is slowing down but other fish fry are beginning to hatch and trout will target them as they burst out of the egg and wiggle helplessly down stream. Fish something really small and slow and see what happens.
Happy summer Fishing from Forrester's Bighorn River Resort!